Coral Springs AC Services - Emergency AC Service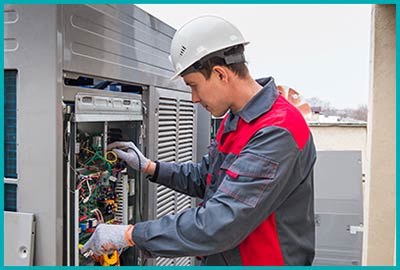 Since summers in the Coral Springs, FL area can get punishingly hot, none of us feel guilty about overworking our air conditioners or switching them on for even 24 hours at a stretch. But excessive use gradually affects the efficiency of your unit and makes it prone to sudden malfunction. Imagine what a nightmare situation it would be if you were to come home one evening to find that your AC is not cooling properly. In your bid to find an urgent solution, you will find yourself making desperate phone calls to any nearby AC service company. Unfortunately, most firms operating beyond standard hours are not fully committed towards their job, lack proper tools and quote exorbitant rates. Fortunately for the local community, there's an emergency AC service provider that you can bank upon.
Reliable, affordable, and always on-time, Coral Springs AC Services is the region's best and most-trusted emergency service firm and provides a comprehensive range of AC-related solutions 24 hours a day. Dial 954-266-8762 to get the assistance you need.
CAN I AVOID EMERGENCIES ALTOGETHER?
Not always, but that doesn't mean you can't reduce the risk of running into one! Although even the best brand of AC can fail at any point of time, routine maintenance is the key to ensure that such incidents are kept in check. Unfortunately, most people ignore the warning signs and only care to call the technicians when the AC is on the verge of a failure or has completely stopped working altogether. If you don't want to be one of those, look up a maintenance plan that works for you and ensure that your air conditioner stays in good shape.
RAN INTO AN EMERGENCY? CALL US
If your air conditioner has stopped working all of a sudden and is not cooling the room properly, call us on our 24x7 helpline for immediate assistance.
Why choose us?
Assured 15-20 minute arrival:
It seems like a far-fetched claim at first, but we never make promises we can't keep. When we see we are the fastest AC service in town, we actually mean it!
Surviving the night without an air conditioner is a hellish thought that should never arise in your head. AC troubles at midnight? Call us immediately and we will sort them out for you.
Wondering how much more you will have to pay in the form of late-night fee? The answer is – not a single penny. We charge our standard rates even for showing up in the dead of the night.
Since we are sticklers for quality, we handpick only the best technicians to work with us.
We have enough experience and training to understand and fix any issue in under an hour. So no more waiting and sweating in the intense heat. With Coral Springs AC Services, it's quick in and out!
HOW DO WE DO IT?
Back in the day, hardly any firm offered their services beyond the standard 9-5 time slot in the city. Ours was one of the first companies to redefine the norms and started offering services throughout the night. Over the years, our experts have helped countless commercial and residential customers with exceptional late-night services and gave them much-needed relief even in the dead of the night. Since time is also critical during such situations, we have worked towards building an armada of mobile vans through the years to deliver blazingly fast doorstep service anywhere within the Coral Springs, FL area.
Has your AC stopped working in the middle of the night? Call us now on 954-266-8762 for immediate emergency assistance.